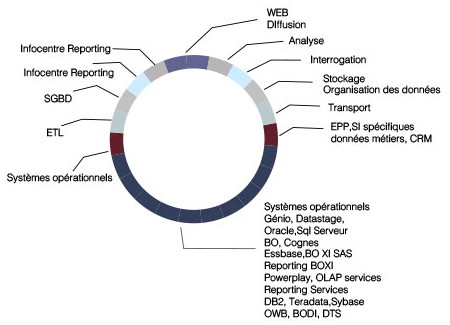 Business Intelligence
The right indicators to improve your business
Every company generates a significant amount of data, and harnessing its power can be very profitable and can optimize the productivity by bringing value and allowing an advanced analysis. However, taking this leap relies on the implementation of the right Business Intelligence architecture within the information system
In order to go about this, many approaches can be adopted. Whether we chose a production oriented approach such as Infocenters, a business/function oriented one such as Datamarts, or a corporate one that puts forward transverse indicators such as Datawarehouses, hard work - so much technical as functional - is required.
Owing to its experience, its knowledge, and the multitude of its technical and functional skills, Integrytis offers you the necessary council to make your BI project a real company success from a user's standpoint as well as from an IT viewpoint:


Audit and evolutions proposal
Tools choice assistance
Project ownership assistance
Technical specification
Technical expertise
Business Intelligence architecture
Business Intelligence modelling
Implementation of datawarehouses and datamarts
The companies' needs of performance indicators are in constant grow. Meanwhile, the volume of data is increasing, business requirements are expanding and IT reactivity is being more felt and experienced. Business Intelligence consumers are becoming key actors of the BI system to be delimited and accompanied. A new way of deploying the BI is required: it has to become agile. As a matter of fact, the traditional methods of project management have to acquire more flexibility and have to place the user at the very heart of the project in order to build along with him a solution adapted to his needs for the sake of a better grasp of the ground reality.
Because every BI project is different, Integrytis offers a pragmatic approach which provides quality and result oriented deliverables, well adapted to customer needs.
Integrytis intervenes in the whole the Business Intelligence's life cycle:
Data Extraction and Datawarehouse/Datamart feeding

ETL solution implementation
Relational and multidimensional database modeling
Aggregation and performances

Reporting

Implementation of ad-hoc and mass reporting solutions
Multidimensionnal cube elaboration
Analytical and statistical platform implementation

Maintenance

Datawarehouse third-party application maintenance
Big Data ? Latest fad or real lever of development ?
It should be noted that the new solutions in the area of storage capacity through the cloud, and in the new real-time data processing capabilities are new drivers of the exploration and exploitation of unstructured data.
Mais l'apport de ces nouvelles données ne doit pas se faire au détriment de l'analyse de celles-ci. La volumétrie de données apportée par le Big Data doit s'accompagner d'une réelle exigence au niveau de la qualité des données et de la structuration de l'analyse pour optimiser l'apport au niveau des utilisateurs.
Furthermore, the BI/WEB convergence henceforth allows companies to transform the large amount data they have into information used to understand their markets and customers, thereby allowing them to gain in terms of operational suppleness and in terms of relevant decision-making at all company levels. Thus, Business Intelligence 2.0 has become a key tool to meet the following challenges :
Align the operations on the strategy and pilot the global performance of the company, through relevant indicators and dashboards reflecting the activity,
Optimize the operations, by supplying to operational teams with reliable and useful information as well as analysis tools to strengthen the understanding of their activity and the relevance of their decision with regard to the objectives,
Empower the governance, thanks to an information management policy that guarantees the quality of the data, its treatment, its traceability and its conformity with the internal and external rules. On the ground of its high specialist's position in the field of Business Intelligence,

Integrytis

allies advice capacities and technological expertise so as to design, build and to deploy innovative Business Intelligence solutions for its customers.